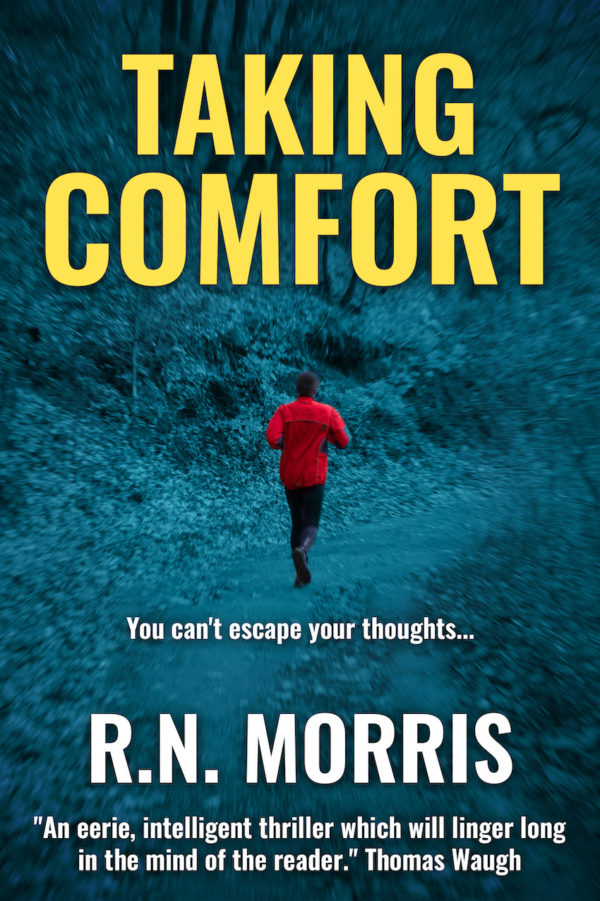 Those wonderful people at Sharpe Books have reissued my 2006 novel Taking Comfort as an ebook, giving it brand new cover, which I love. Taking Comfort was my first published novel, so it holds a special place in my affections. Rereading it for the new edition was an interesting experience. I was surprised how well it held up and how much I still like it. It was a contemporary novel in 2006 but it reads a little like a historical novel now. There is no longer a sandwich chain called Benji's or a High Street store called Woolworths. It is, I think, imbued with an atmosphere of post-911 anxiety. The story is about one man's strategies to overcome the fear that the world instills in him.
Though the world has changed in many ways, and the causes of our anxiety may have mutated, I think the book's themes remain relevant today. It wasn't widely reviewed at the time of its release, but this great review did appear in the website The Millions. I particularly loved this quote: "Morris's book is as good as, if not better than, most of the Booker and Whitbread (now Costa) winning novels I've read over the last few years (Life of Pi, The Curious Incident of the Dog in the Night-Time, and Vernon God Little come to mind) and deserves all of the attention that has been heaped on those projects."
Here's the blurb:
Rob Saunders just wants to feel safe, but the world is a dangerous place.
It's Rob's first day in his new job. On the way into work, he sees a student throw herself under a tube train. Acting on an impulse, he picks up a file she dropped as she jumped.
Over the next few days, he is witness to other disturbing events, some more serious than others.
From each one he takes a 'souvenir'.
Through these objects, he hopes to keep at bay the dangers and terrors that threaten him. The more terrible the tragedy an object is associated with, the greater its power.
As Rob's behaviour becomes increasingly obsessive, the lines blur between witnessing, seeking out and initiating tragedy.
His relationship with his partner Julia becomes strained. She wants a baby, but Rob is reluctant to bring another life into a world that frightens him. Meanwhile he is on the verge of initiating an edgy affair with a colleague.
Events begin to spiral out of control when he makes a frightening discovery while jogging in the woods. And the danger that he fears invades his life with terrifying violence.
Atmospheric, tense and stylistically bold, Taking Comfort is an exploration of identity and desire told through multiple viewpoints. A literary thriller with the anxieties and survival strategies of a post-9/11 world as its theme.
For UK readers it's available on Amazon.co.uk, or for US readers on Amazon.com.