About the Author
R. N. Morris is the author of thirteen novels.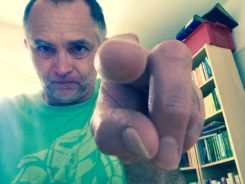 The latest is
Fortune's Hand
, a historical novel about Walter Raleigh. He is also the author of the Silas Quinn series of historical crime novels. 
The series, set in London in 1914, began with 
Summon Up The Blood
, followed by 
The Mannequin House
, 
The Dark Palace
, 
The Red Hand of Fury
 and 
The White Feather Killer
 and
The Music Box Enigma
.
A Gentle Axe
 was published by Faber and Faber in 2007. Set in St Petersburg in the nineteenth century, it features Porfiry Petrovich, the investigating magistrate from Dostoevsky's great novel, Crime and Punishment. The book was published in many countries, including Russia. He followed that up with
A Vengeful Longing
, which was shortlisted for the Duncan Lawrie Dagger Award (as the CWA Gold Dagger was briefly known).
A Razor Wrapped in Silk
came next, followed by
The Cleansing Flames
, which was nominated for the Ellis Peters Historical Novel Dagger.
He also wrote the dystopian thriller  
PSYCHOTOPIA
. and the standalone contemporary thriller, 
Taking Comfort
.