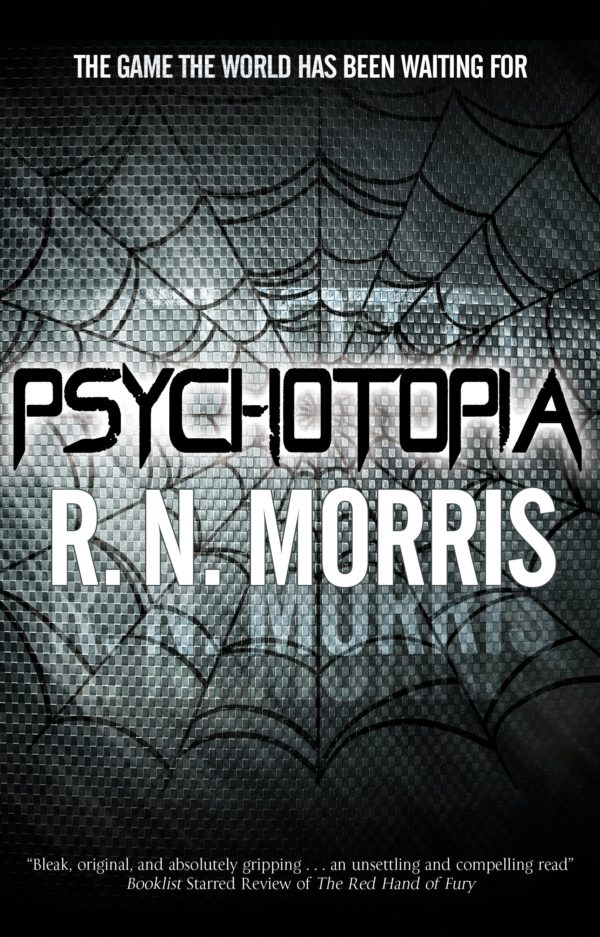 psychotopia spider trailer from Roger Morris on Vimeo.
A game for the times we live – and die – in. Enter Psychotopia, a dark new dystopian novel from the author of the acclaimed Silas Quinn mysteries.
PSYCHOTOPIA, LEVEL ONE. Create your own boutique psychopath, then deceive, manipulate and be ruthless, spreading mayhem and destruction to reach the next levels.
It's the computer game for our times. After all, the amount of crazy in the world is increasing. Senseless violence on the streets is becoming the norm. Can Dr Arbus's ground-breaking device identify and neutralize psychopaths before it's too late? In this increasingly dysfunctional world, surely Callum standing by Aimee after her devastating encounter with Charlie is proof that real love and goodness can still win in a world that's increasingly rotten . . . Or can it?
"AMERICAN PSYCHO meets READY PLAYER ONE, this terrifying glimpse into the heart of darkness gripped me by the throat and never let go."
Cass Green, Sunday Times/USA Today bestselling author.
"Like an episode of Black Mirror on steroids, Psychotopia is dark, dangerous and deranged – I dare you to read it."
Mark Hill, author of IT WAS HER.
"Echoes of The Matrix, Banks' "Complicity", Dick's "Minority Report" and Bradbury's "The Small Assassin", but wholly original. It's a chilling reimagination of the dystopian novel – one of my books of the year."

Tim Stretton, author.
"Clever, but bleak, with razor-sharp prose, and dark humour to die for. Five stars!"
Michael J, NetGalley Reviewer
"Morris's book is a look into the increasingly dark psyche of the 21st century human. Not for the faint of heart or those needing a spiritual lift, but a creepy and fascinating story all the same." 
For the Love of Books Blog
"Is this book shocking? Yes! In your face? Yes! Disturbing? Hell yes. Did I love it? OMG yes!"
Sinfully Wicked Book Reviews
"Very well written and cleverly constructed…  Any fan of intellectually stimulating dark speculative fiction would probably enjoy this one."
Mia D, NetGalley Reviewer
"Riveting writing makes this title by R.N. Morris stand above many other science fiction and thriller books… I would recommend this title for readers who appreciate a fun and edge-of-your-seat adventure text."
Reviewer 512434, NetGalley Review
"It wasn't a matter of simply reading it and saying "good story!" It made me think a lot about what this world is coming to, and about how we treat each other- not only our equals, but how we treat others both above and below what we believe to be our stations in life. I love books that make me think and this is definitely one of them… I enjoyed the hell out of it!"
Char's Horror Corner
"Psychotopia is a modern literary journey down through the seven circles of Hell…  horrifyingly plausible… a frightening and fascinating read."
Story Addict
"
…
goes right up there as one of the most interesting and messed up things I
'
ve read in a long time. 
Definitely one to grab."
Birdie's Bibliotheca
"…Psychotopia will mess with your mind… a very scary read. Brilliant, thought provoking and terrifying writing by R.N. Morris…"
The Bookwormery
"like nothing I have read before"
Sean's Book Reviews
"Even a few days after finishing this book I am still thinking about the story"
Terror-Tree
"drew me in from the first page and had me up all night reading to the end… definitely going on my list of favorites for 2019."
Jessica Rachow Book Blog
"R.N. Morris needs locking in a room with no access to the outside world and no internet – his ideas are far too dangerous."
Cheryl M-M's Book Blog
"The writing is almost suffocatingly taut and the characters are fully-fleshed – some of them scarily well."
Pagefarer Book Blog