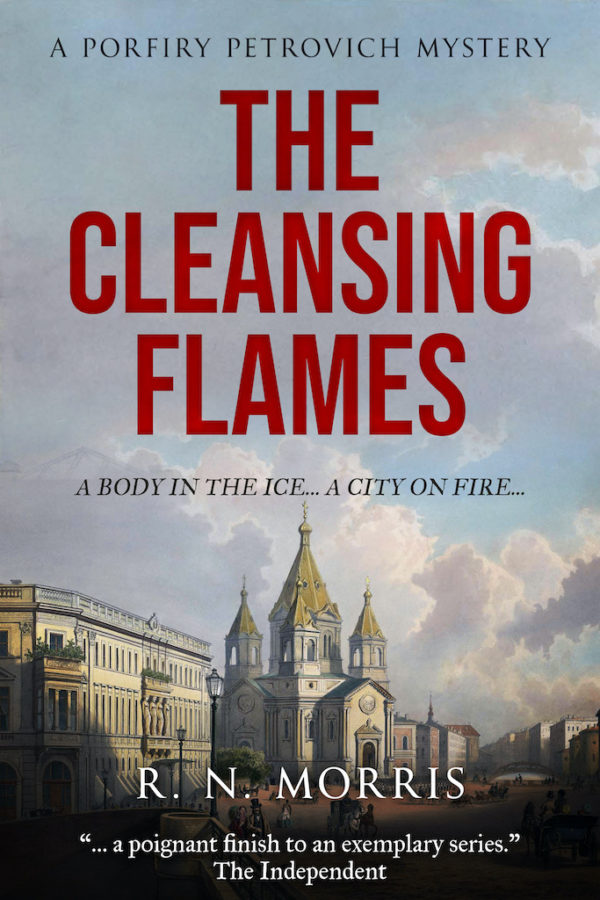 The Cleansing Flames
 NOMINATED FOR THE 2011 CWA ELLIS PETERS DAGGER FOR BEST HISTORICAL NOVEL
Easter, 1872. Fires burn in St Petersburg, a prelude to the revolutionary turmoil that will shake Russia a generation later. As the springtime thaw begins, a body rises to the surface of the Winter Canal. Following an anonymous tip-off, magistrate Porfiry Petrovich is drawn into an investigation of the radical intellectuals who seek to fan the flames of revolution.
In the meantime, junior magistrate Pavel Pavlovich Virginsky plays a dangerous game of his own. Following a chance meeting with a man he suspects of being an arsonist, he volunteers to infiltrate a terrorist cell. But the young man's loyalties appear divided, his motives conflicted. Will he track down the killers, or to use his position as a magistrate to further a cause with which he sympathises?
The issue comes to a head in a shocking and violent confrontation between two generations.
The Cleansing Flames is the fourth book in R. N. Morris's acclaimed series featuring the investigator from Crime and Punishment.
"Reading this splendid fourth entry in the RN Morris sequence of riffs on the detective Porfiry from Dostoevsky's Crime and Punishment is a bittersweet experience, as Morris is about to put the character on hold. In the new book, St Petersburg is in flames, and the fires are harbingers of the revolution that will tear the country apart. After a post-winter thaw, a body surfaces in a canal, and Porfiry is in business again. As before, character building, locale, and historical detail are all beautifully balanced."
Shortlisted for the 2011 CWA Ellis Peters Historical Dagger. Judges' comments
"… a poignant finish to an exemplary series."
The Independent. (Picked as one of the Independent's best thrillers of 2011.)
"The Cleansing Flames is the fourth in the series and arguably the best so far… Morris's story succeeds admirably as a conventional work of crime fiction but is something more as well. In its twists and turns, and particularly in the divided character of Pavel Pavlovich, sympathetic to many of the aims of the revolutionaries but shocked by their methods, The Cleansing Flames is a clever exploration of the perennial conflict in political action between idealism and realism."
BBC History Magazine.
"The Cleansing Flames with a combination of meticulous research, an interesting plot, an intelligent thought provoking narrative, and dialogue that fits the time and place is an excellent but not particularly  fast read. But it is well worth taking the time to get immersed in the story…"
Crime Scraps Blog
"While still fulfilling all the requirements of the historical crime novel, it is strongest in its wonderful sense of place, atmosphere and historical detail and the memorable characters that people this landscape."
Historical Novel Review
"So ends a marvellous series… I'll return to it, for sure, as I'm sure it will reward rereading, such is the depth of the historical tapestry woven."
Lizzie's Literary Review