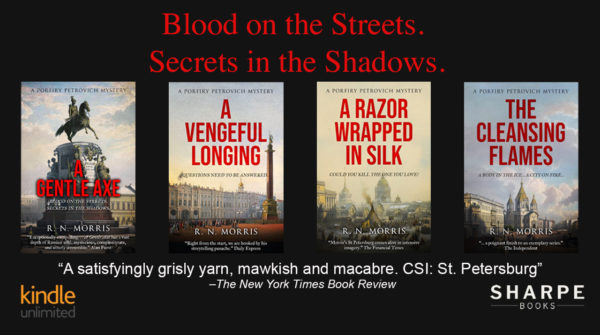 Once upon a time I wrote four novels set in Russia in the nineteenth century. Not only that, I stole my main character from one of the masterpieces of world literature.

What was I thinking?

I blame my agent, who said 'That could work' when I pitched the idea of writing ONE book featuring the investigating magistrate Porfiry Petrovich taken from Dostoevsky's novel Crime and Punishment. He sold the idea to Faber and Faber, who then went on to commission four Porfiry books from me in total.

I'm delighted to announce that Sharpe Books have now re-released brand new ebook editions of my St Petersburg Mysteries. The series begins with A Gentle Axe, which the New York Times described as "CSI: St Petersburg", while the York Post said it was "a worthy sequel to one of the greatest novels ever written and a cracking thriller in its own right." Next came A Vengeful Longing, which was shortlisted for the CWA Gold Dagger, the biggest prize in crime writing. The third book is A Razor Wrapped in Silk, "a wonderfully atmospheric novel" according to one reviewer. Last but not least is The Cleansing Flames which the Independent described as "a poignant finish to an exemplary series." Each of the books is designed to be read as a standalone, or you can get them as a virtual boxset from Amazon. Binge away!

As yet the new ebooks are not available in the US, because we are waiting for the American rights to revert from Penguin. I have been assured that will happen soon. So apologies to American readers.

I love the new covers. What do you think?

Apparently, the creators of Columbo based their TV detective on Porfiry. I'll confess that that did influence my own interpretation of the character.

So this is that bit where I'm heading out of the door, then I stop, turn, and say… "Oh, there's just one more thing."

Well, the one more thing is: these aren't the only books from my back catalogue that Sharpe are set to re-publish. Watch this space…