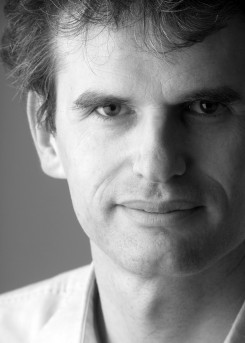 Photo credit: Katie Vandycke.
When Ed Hughes first asked me to collaborate with him on a full length opera, I have to say I was both amazed and flattered. Secretly, I suspected he had grossly over-estimated my capabilities. I knew practically nothing about opera, and certainly nothing about writing the libretto for one. But I love the idea of collaborating. I was fascinated by the storytelling possibilities. I hoped that Ed knew enough about opera to get us both through. And I like a challenge.
Ed had already written a very well-received opera The Birds, to a libretto by Glyn Maxwell (about which The Independent said: "Pure magic…A rip-roaring vital spectacle…a show of terrific vitality and verve", whilst The Times commented on its "Great  beauty and worth"). My own experience in musical theatre was limited to a short piece we had collaborated on together, The Devil's Drum. And to be honest, my part in that was fairly minimal. I sent Ed a few of my short stories and he picked one, creating his own text from my story.
In October, the opera we wrote together, When The Flame Dies, receives its world premiere, in a concert performance with video in Canterbury, as part of the Canterbury Festival. The production is being presented by Sounds New Canterbury.
To mark the occasion, I decided to ask Ed a few questions about the project:
RM: We've been thinking and talking about our "Jean Cocteau opera" for years now. Can you remember how the idea first came about?
EH: I think we were both drawn to modernist and surrealist visual arts from literary and musical perspectives and Cocteau seems to fascinatingly relate to a lot of different kinds of work. For example he designed sets for operas, wrote surrealist poetry and made drawings about his experiences with opium.
I remember also getting into film when I lived in Bath in the early 2000s and hung out a lot with a very interesting group of people at the Bath Film Festival. This was a time in which I experimented with writing scores to silent films for the Festival. During that time I came across a VHS of Cocteau's 1950 film 'Orphee' which opened up a new world. He goes against normal conventions of films and uses the medium to create artistic effects which can only be produced in that medium (for instance bringing characters apparently dead back to life by reversing the film through the projector). He also used sound and music in ways particular to the medium which continue to fascinate.
I think we talked about the possibility of a film-opera at one point, having already collaborated on a short stage piece. I was always interested in a piece that might explore operatic qualities in parallel with filmic qualities. Then during research for a novel you discovered Cocteau's 'Opium: the diary of his cure' and I think we thought we had a potential scenario – the idea of Cocteau himself on stage, centre of the action, being visited (or imagining visits from) characters of his real past, myth and his imagination. Of course it was sometime after that before we got anywhere near having a chance to try these ideas out!
You mentioned your work writing film scores. How does writing an opera compare to scoring a film? And how do both compare to writing what you might call pure music – music that just exists without reference to anything else? Which is the most satisfying for you as a composer?
With a film score you have to be aware of how the musical entry will give an accent or a beat to the moment because it affects the way the story is perceived. The music must know when to signal strongly and characteristically – very often in the manner of a recurring motif. And then to know when it needs to sit back and drop out. With an opera or symphonic piece, say, there's more opportunity for music to follow and develop a line of thought on its own terms (with all due respect to and in parallel with the libretto!!) Seriously, I think that opera affords the chance for amazing rich complexity of expression because it allows for freezing clock time in order to unveil the emotional resonances of the characters and the piece. In fact I think this special layering of tempos is something that may come through in your approach to the scenario, in mine to the music, and in Will's to the video. Maybe this is also a link to Cocteau – non-naturalism in the interests of exploring the nature of the medium itself?
That's interesting, especially as When The Flame Dies is billed as an opera with video. Of course, what's different in this case is that the video content has been devised after the music was written – the opposite way round to usual. So the music leads, rather than follows, the visual. What's your take on the video or filmic content of When The Flame Dies? How important was it for you to have this element? As you mentioned, the video projection is being produced by Will Reynolds, who we worked with on the project when it was work-shopped a few years ago. Can you give us any clues what to expect?
I quite enjoy that reversal of the usual process of film first, music last – I think it may give the video here the chance to operate unconventionally – with less pressure to carry the story constantly – perhaps it's not too fanciful to say that the video might acquire musical qualities. Will's video is still work in progress at this point but we know from his previous work for the MettaTheatre presentation how entrancing his visuals are. He managed to capture emblematic images (like poppy petals falling) and present them in slow motion so they have the quality of being frozen or stretched out, similar I feel to the electronic music technique of sampling a small slice of a musical chord and time-stretching and pitch shifting it, so that it becomes a texture or atmosphere. I think the video may be more particularly important in the sections where the piece crosses into the world of dreams, to give a sense of strange tempos and time unravelling (resonating with techniques Cocteau used in Orphée). However, although the piece is presented here as a concert performance with video, it could certainly be done as a staged opera.
Let's talk about Orpheus, who makes an appearance in our opera. Orpheus featured in a number of Cocteau's films, particularly Orphée, which you mentioned. When The Flame Dies is certainly not the first opera to explore the myth of Orpheus in some way. Rilke wrote a cycle of sonnets to Orpheus. And I don't know if you're aware of the Nick Cave album, and track, The Lyre of Orpheus. Why is Orpheus such an enduring figure in art, do you think? And do you really think a figure from classical mythology can resonate with a modern audience? In other words, what does the myth of Orpheus have to say to us today?
I suppose because there is something fascinating about any human with extraordinary musical gifts; you can certainly experience that in classical concerts, the Proms for example, where virtuoso soloists hold the audience in thrall. And the legend that is transmitted through many of the composers who've invoked Orpheus is that he was not only virtuoso but could do something magical – overcome death and reverse time. 'Thou art on thy way to the dark and dismal abyss. If with thy voice, thou can'st appease the furies, monsters, and cruel death, thy beloved Eurydice shall then return with thee to light'. [from Gluck Act 1, Scene 2]. Cocteau's interest in his Orphée was part humorous, part serious. There is wonderful irony in that the great Orphée cannot write poems any more. It is by crossing into the forbidden zone, the world of dreams, that he can recover his powers. The dreamer must accept his dreams, says the Princess in Cocteau's film, and that sounds like a creative credo from the man himself.
Our own piece presents the Poet (Cocteau) unconscious of his own musical gifts (he's a writer, even though he's singing, but hey, it's an opera!) until he is beguiled by the Princess and a visit from a figure he imagines to be Orpheus. Of course Orpheus also might be his own projection, his double.
Our own piece is not seeking to be particularly contemporary but it is one that engages with that peculiar modern interest in the frontier between reality and dreams. That's also something that will come through in Will's video, I suspect, and therefore provides a link to, or a remote echo of, Cocteau's film.
For me, it's a very powerful myth because it seems to express the power of art to enable us to defeat our own mortality, if only for the duration of the artistic experience. That's both as creators and consumers of art. I know how I lose track of time when I'm working on something, how nothing else matters, other than the scene I'm writing. I think the same thing happens when we go to the theatre or the cinema, or get stuck into a good book. We're taken out of our own lives, out of the actual moment, into the intense – and seemingly eternal – moment of whatever it is we're experiencing. So art allows us to conquer death, but only temporarily. In the same way that Orpheus was able to rescue Eurydice from the Underworld, but ruined it all by looking back. Drugs too – Cocteau was an opium addict – provide this temporary release from mortality. They represent a kind of debased version of the freedom that artistic expression brings. They act as a doorway into the world of dreams – and death. And one which offers a way back. But of course, ultimately, the addict doesn't want to come back and the Underworld won't release them, and instead overwhelms them.  I think these are all things that we explore.
One final question… Although we've workshopped the opera with a piano score accompaniment, this is the first time the opera has been performed in full with its proper orchestration. Are you excited about that? Can you tell us a little about the band you've assembled – and a word two about our amazing singers?
Yes, the concert in Canterbury takes a different angle to the previous workshops… in those there was a definite (and very incisive) directorial effort to realise the drama in a theatrical sense, which was very exciting. What I suppose I missed on those occasions was the extra colour I knew would come with the finished orchestration. So for the first time we are presenting the piece in its final orchestrated form, with a crack classical ensemble of twelve: flute, clarinet, horn, trumpet, harp, piano, percussion, 2 violins, viola, cello, double bass. The conductor is Carlos del Cueto, who has such a brilliant gift for music theatre. The ensemble is the New Music Players – a group of musicians I formed and started writing for in the early 1990s, and have continued to work with ever since. It's always inspiring to work with them – the electricity of writing for musicians who can do practically anything and make it sound very expressive is very exciting. My intention with the orchestration is to make the colours more luminous, and make the musical textures more complex and nuanced while at the same time, I hope, not occluding any of the rich literary detail. We do indeed have a fantastic cast – Lucy Williams who sang Princess so intensely before, brilliant baritone Edward Grint as Cocteau, the internationally acclaimed tenor Julian Podger as Orpheus, the sublimely lyrical Emily Phillips as Euridice, and glorious countertenor Andrew Radley as Raymond.