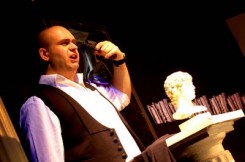 Exposure is a programme of semi-staged performances of works currently in development with ROH2. I'm very excited to announce that Cocteau in the Underworld, the opera I've written with the composer Ed Hughes, will be included in the next Exposure evenings. (If you're wondering, I wrote the words!) Basically, a ten minute extract will be performed, along with extracts from other operas in development. One of the other treats (or should that be tweats?) lined up is Twitterdammerung, an opera created around twitter tweets!
The event will be held from April 14 to April 17 at the Linbury Studio Theatre inside the Royal Opera House, Covent Garden. As far as I know, we have slots on the first and last nights.
I'm very exciting about the production of our excerpts, which will include some entirely new mixed-media content.
Tickets are £10. I'll post more details when I have it!