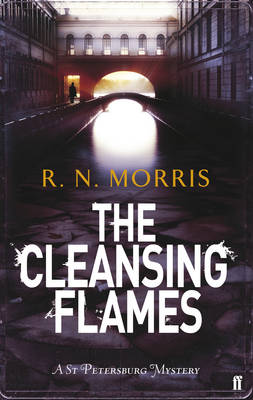 UPDATE: COMPETITION NOW CLOSED!
My new novel, The Cleansing Flames, is published on Thursday. It's the fourth (and final!) instalment in my series featuring Porfiry Petrovich, the investigating magistrate I've taken from Dostoevsky's great novel Crime and Punishment.
To celebrate the publication, I've decided to give away a copy FIVE SIGNED COPIES of The Cleansing Flames in a little competition. I'm looking for the answer to one simple question:
What's missing from the cover of The Cleansing Flames?
Clue: the cover of The Cleansing Flames differs in one small detail from the other covers in the series so far. So what you what you have to do is lay side by side all the other books and compare the covers to that of the new book. All the others share a detail, which is missing from The Cleansing Flames.
What's that I hear you say? You don't have the other books? In that case, you'll need to check out the covers on google images, or on my page on my publisher's website. Or you can look them up on amazon here: A Gentle Axe, A Vengeful Longing, A Razor Wrapped in Silk.
OK, so what you're looking for is a feature that's common to the other three covers, but is missing from the fourth. Got that?
Email me your answer using the contact form. At noon on publication day (19 May) I will use random.org to pick a winner FIVE WINNERS from all the correct answers received.
NB: PLEASE DON'T POST YOUR ANSWER IN THE COMMENTS AS THAT WILL GIVE IT AWAY FOR OTHER ENTRANTS! Send me an email via the contact form.