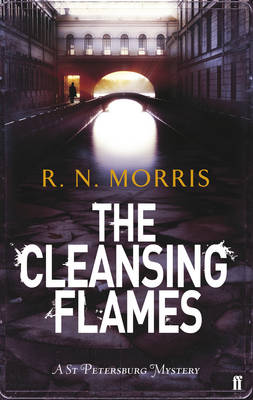 … because the price has been reduced to £1.65. So, here it is – CWA Ellis Peters Historical Novel Dagger-nominated, The Cleansing Flames.
"The Cleansing Flames is the fourth in the series and arguably the best so far… Morris's story succeeds admirably as a conventional work of crime fiction but is something more as well. In its twists and turns, and particularly in the divided character of Pavel Pavlovich, sympathetic to many of the aims of the revolutionaries but shocked by their methods, The Cleansing Flames is a clever exploration of the perennial conflict in political action between idealism and realism." BBC History Magazine.
CWA Ellis Peters Historical Dagger. Judges' comments: "Reading this splendid fourth entry in the RN Morris sequence of riffs on the detective Porfiry from Dostoevsky's Crime and Punishment is a bittersweet experience, as Morris is about to put the character on hold. In the new book, St Petersburg is in flames, and the fires are harbingers of the revolution that will tear the country apart. After a post-winter thaw, a body surfaces in a canal, and Porfiry is in business again. As before, character building, locale, and historical detail are all beautifully balanced."
"… a poignant finish to an exemplary series. " The Independent. (Picked as one of the Independent's best thrillers of 2011.)
So, if you've got £1.65 to spare and fancy losing yourself in a bit of Russian-set historical crime fiction, it's here, if you want it.