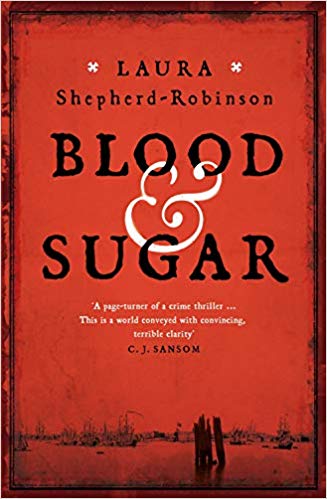 Last night I braved the icy sleet to pop along to the launch of Laura Shepherd-Robinson's brilliant historical crime novel, Blood and Sugar, at Daunt Books on Marylebone High Street. It was a fantastic turn-out for a wonderful book, which I was lucky enough to read when it was still a manuscript. This was before Laura had an agent or a publisher.
I immediately had the feeling that I was reading something special and that Laura was destined for stardom. I don't claim any special powers. It's just a bloody good book. It would have been obvious to anyone.
Well, it didn't surprise me to learn that Laura was snapped up by a top literary agent, and very soon afterwards signed by Mantle, with the book scheduled to be their lead title for 2019.
Sometimes good things happen for a good reason.
Here's the publisher's blurb:
June, 1781. An unidentified body hangs upon a hook at Deptford Dock – horribly tortured and branded with a slaver's mark.
Some days later, Captain Harry Corsham – a war hero embarking upon a promising parliamentary career – is visited by the sister of an old friend. Her brother, passionate abolitionist Tad Archer, had been about to expose a secret that he believed could cause irreparable damage to the British slaving industry. He'd said people were trying to kill him, and now he is missing . . .
To discover what happened to Tad, Harry is forced to pick up the threads of his friend's investigation, delving into the heart of the conspiracy Tad had unearthed. His investigation will threaten his political prospects, his family's happiness, and force a reckoning with his past, risking the revelation of secrets that have the power to destroy him.
And that is only if he can survive the mortal dangers awaiting him in Deptford . . .
Anyhow, last night was a great night. A lovely speech from Laura. And immense love for her, and her book, in the room. I enjoyed myself enormously, meeting and catching up with fellow writers and stalwarts of the London crime fiction scene. I even had a very interesting chat with a man who talks about cheese for a living.
As for the book, I can honestly say that Blood and Sugar is utterly compelling from first page to last. If you like historical crime fiction, you'll love it. The story is brilliantly imagined and beautifully told. Richly-textured, alive with all too human characters, it's the kind of book fans of the genre will lap up, while non-fans will be converted.
I felt it when I read the manuscript way back then. And I'm even more sure of it now: the next star of historical crime fiction has arrived.