Today sees the publication of the French edition of my third Russian-set crime mystery, which has the English title of A Razor Wrapped in Silk, but is known in France as Les enfants perdus de l'Empire.
I just happened to receive six complimentary copies in the post this morning. My thanks to my French publisher, 10-18, for sending them through.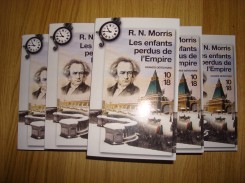 You may be wondering how A Razor Wrapped in Silk can be translated into The Lost Children of the Empire. I guess you'll have to read the book to find out!