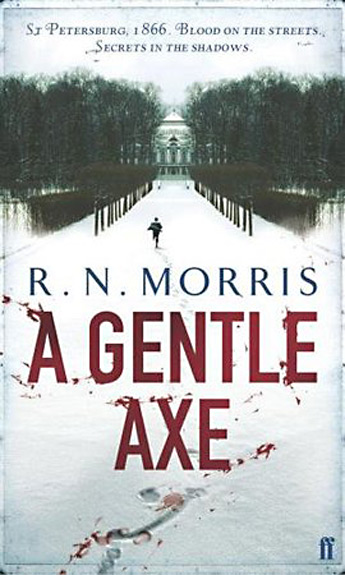 It's possible that every now and then someone stumbles on this blog entirely by accident. Looking for something else – I can't begin to guess what – you find this. Me. I can only apologise.
In all likelihood, you will speed-click back to google. Get the hell out of there! It's some writer's blog! If that's the case,  you won't be reading this now. So if you are reading this, the chances are you decided to spend a moment or two exploring. Trying to find out who the hell this R.N. Morris guy is.
So maybe, every now and then, I should take a little time to say a bit about myself and what I'm doing here. On the internet. With a website and blog. And everything.
So yes. I'm a writer. Of fiction. Crime. Mostly. Murder stories. Set in the past. In Russia. Sorry, I tend to come over all inarticulate when I try to talk about myself and my writing. Awkward. Especially when every writer these days has to be his or her own publicist.
I've written a series of four novels set in St Petersburg the the 1860s and 1870s. The central character of the series is Porfiry Petrovich, a character I took from Dostoevsky's novel Crime and Punishment.
I'm told the books are at the literary end of the crime fiction genre. I don't know anything about that myself. I just try to tell the stories as best I can.
If the series piques your interest, A Gentle Axe is probably the place to start. It's the first book in the series. That's not to say you have to read the books in order. Each one is designed to stand alone, but there is a progression in the relationships between the central characters. So. Up to you. The other books are A Vengeful Longing, A Razor Wrapped in Silk and The Cleansing Flames, the last of which was published in 2011. In April 2012, I'm publishing the first book in a new series, called Summon Up The Blood.
If you've got a kindle, you can download A Gentle Axe now for just £1.42. I know the prices change on amazon, so by the time you read this – if you get this far – the price may have changed.
Here are some of the things reviewers said about the book (which was called The Gentle Axe in America) when it came out:
"Lush, and exceptionally compelling, but take your time – R.N. Morris's The Gentle Axe has a vast depth of Russian soul; mysterious, compassionate, and utterly irresistible. Alan Furst
"Morris' recreation of the seamy side of 19th-century St Petersburg is vivid and convincing … As to who did it, Morris keeps the reader guessing until the end." The Independent
"R. N. Morris has produced perhaps the most audacious police-inspector novel of the season with "The Gentle Axe."….The tale hums along with controlled excitement, as if written by a Russian minimalist and rendered by a fine translator. The psychological and spiritual themes seem worthy of Dostoyevsky; there are traces of Gogol and Gorky, too. Such an accomplished book transcends pastiche." The Wall Street Journal
"It's a satisfyingly grisly yarn… "CSI: St. Petersburg."" The New York Times Book Review
"[A] smart, hypnotizing tale of crime and duplicity." The New York Sun
"The story is told ably in the classic whodunit twisty-arc style, reminiscent of the sleuthing of Nick Charles, Sherlock Holmes and Columbo, the mussed-up character based partly on Dostoevsky's trench-coat-clad Petrovich. Dirty Harry could easily be referenced, too…" The San Francisco Chronicle

"Morris has created an atmospheric St Petersburg, and a stylish set of intellectual problems, but what makes A Gentle Axe such an effective debut is its fascination with good and evil. It has earned its author the right to make use of the work of a greater writer." Times Literary Supplement
"A Gentle Axe is tense, atmospheric and bristles with the kind of intelligence you'd read, well, Dostoevsky for… a piece of literary fun." The Independent on Sunday
"Morris has dug deep into the Russian soul in this book, and his dark, dank, dangerous St Petersburg, with its snowbound, windswept streets and stinking slums, is brilliantly recreated. The hunt for the murderer is tense and atmospheric: the denouement brutally shocking and moving. A worthy sequel to one of the greatest novels ever written: and a cracking thriller in its own right." The York Press