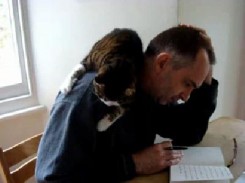 A message from someone called sequin1oo reached me via the You Tube comment facility: "I love your writers life videos. May we expect anymore? I'm an aspiring writer myself, working on my first novel and I have to say those videos are my favorite."
The comment prompted me to have a look at the videos I've already posted and I was surprised to see that A Writer's Life 4 has had 2,960 views.
And to answer seguin100's question, I think I can feel another video coming on. Watch this space.