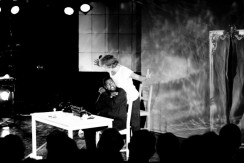 After years of planning and hoping, with many frustrations along the way, Cocteau in the Underworld – the opera composed by Ed Hughes with a libretto by me – received its first full-length performance this weekend in two sold out performances, as part of the Grimeborn Festival at the Arcola Theatre.
Many thanks to our brilliant director Poppy Burton Morgan and Will Reynolds the genius of design, lighting and projection. Thanks also to our amazing pianist Richard Casey and to Carlos Del Cueto, the conductor and musical director. Thanks to Heather Doole who produced for Metta Theatre and to Liz Webb who produced for the New Music Players, and to Emily Jenkins, the assistant director. But most of all, thanks to our incredibly talented and committed cast:
Cocteau (baritone): Andrew McIntosh
Princess (mezzo): Lucy Williams
Orpheus (tenor): Peter Kirk
Eurydice (soprano): Emily Phillips
Raymond (counter-tenor): Ben Williamson
Eurydice (video artist): Loren O'Dair.
The picture above shows Andrew McIntosh as Cocteau and Peter Kirk as Orpheus. You can view some more photos from rehearsals here. We're hoping to produce a touring production in 2011, with a fully scored instrumentation.