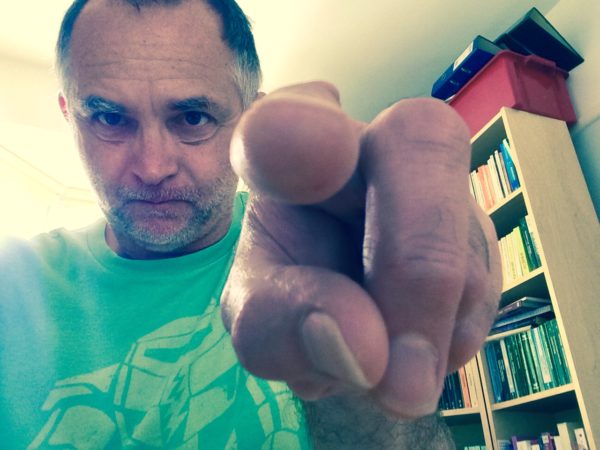 I can write stories.
I can't make people read them.
If I'm lucky, someone might publish them. All of a sudden there are books with my name on the cover.
But I can't make people buy my books.
No more than I can stop other people pirating them.
I can't make supermarkets stock them. Or even bookshops. You would think bookshops would stock books, but it's not a given. And it's out of my control.
I can't make some big shot film producer buy the rights to my books and sign up Phoebe Waller-Bridge to adapt them and Benedict Cumberbatch (or whoever) to play the lead. (Personally I would have Reece Shearsmith down for the role of Silas Quinn, but I can't make him.)
I can't get Netflix or Amazon Studios or HBO to turn my books into the next TV box set sensation.
I can't make London buses advertise my books. Or posters for them appear on railway platforms up and down the country.
I can't make Mariella Frostrup talk about my books on the radio. Or Simon Mayo. I can't make Zoe Ball pick one for her book club.
Come to think of it, I can't make anyone pick them for their book clubs. It's embarrassing even just to ask.
I can't make Stephen Fry tell everyone how great my books are.
I can't make the Observer cover them with glowing full page reviews. Or even the Daily Mail. I'd settle for the Daily Mail.
I can't make the Hay Festival put me in a big tent. I can't make thousands of people turn up to hear me speak and stand in line clasping copies of my book to their chests for me to sign.
I can't make the Booker Prize judges pick my book as the controversial but unexpectedly popular winner. Or even just put it on the long list.
I can't make my books trend on twitter.
I can't make any of these things happen.
All I can do is write stories.
That's the only part that I can control.
So that's what I'll work on. And work on. And work on.
And maybe if I work on it hard enough some of the things I've mentioned above will happen. But more likely they won't.
No matter.
I'll keep writing stories.
Because it's all I can do. And all I need to do.