I always get a little nervous when I'm meeting genuine Russians, because I'm convinced they're going to see through the made-up ones in my books.
That, or take umbrage at my act of outrageous literary effrontery in appropriating a character created by one of their nation's greatest ever writers. My novels feature Porfiry Petrovich, you see, the investigating magistrate from Dostoevsky's masterpiece Crime and Punishment.
So when I did an informal event at the wonderful Book Barge recently, and I was told that Dostoevsky himself would be popping in, you can imagine my trepidation.
As it turned out, and as you can see from the photo, Fyodor Mikhailovich and I hit it off famously.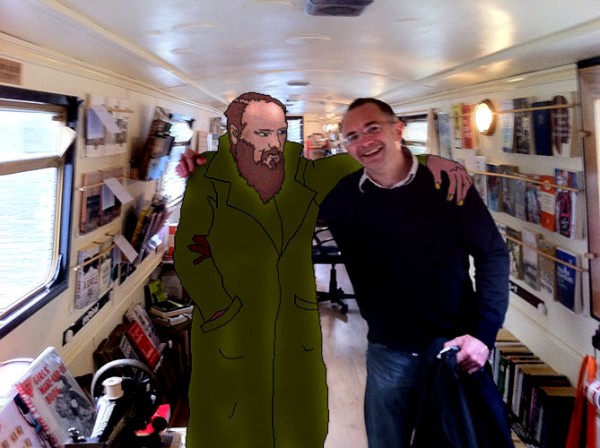 (Or am I alone in detecting a slight stiffness in the great man's body language – perhaps indicating a desire to keep this English imposter at a distance? Also, his eyes seem to be watching me with some suspicion. Maybe it's just me being paranoid. Or maybe the paranoia is Dostoevsky's?)
A couple of Fyodor's compatriots were also present and they explained that he had come to London in search of the mysterious street artist Banksy. One of them, Edward Chasovitin, was following Dostoevksy around and recording his experiences, which he has compiled in a photo journal which you can view on his website here.  Edward also made a short film of Dostoevsky and myself riding on the barge along the Thames. You can watch that here. (Click Go, to start the video.)
Of course, as you may have worked out, Edward is the man behind the whole thing. He's a web artist and film maker, and the creator of the Dostoevsky Film project. This is a crazy but brilliant website which features a living, virtual Dostoevsky placed in a series of contemporary settings. The story in which I make a guest appearance imagines Dostoevsky visiting present-day London. As Edward explained, "This Project explores the possibility of Dostoevsky's presence among  the people in modern life.  What happens when Dostoevsky is one of us but nobody knows who he is?"
I don't know if you've ever seen or heard Dave Gorman's show, Genius. I can't help thinking Edward Chasovitin and his Dostoevsky Film project would make worthy contenders for the genius title.