I can't believe we're nearly at the end of the blog tour for The Red Hand Of Fury. I've been bowled over by the contributions from all the book bloggers who have taken part. Each and every one of them has been generous with both their time and their space on their blogs. I've been particularly thrilled to read all the reviews of the book that have been posted. It's great to hear from so many readers. I appreciate that the book may not be to everyone's taste – one or two have said they found it "too dark". Although I think they did also say they still enjoyed it and would recommend it.
Mea culpa on the darkness thing. I kind of feel there's no point doing darkness by halves. Something is either dark or it isn't. Once you take your writing to the dark side, you have to let it go as far as it wants to go.
So three more generous book bloggers took part today.
Ellesea Loves Reading and Have Books Will Read both hosted excerpts, so if you want to get a little flavour of the book, you know where to click. And there was a five star review on JBronder Book Reviews. Top-line verdict: "This is a great, dark mystery." Again with the dark word!
Tomorrow is the last day of the tour. I'm sad it's coming to an end, but elated too. I've really enjoyed the experience. I've loved seeing new readers discover me as an author, and it's been wonderful to get their reactions to the book. My thanks again to Rachel Gilbey for organising.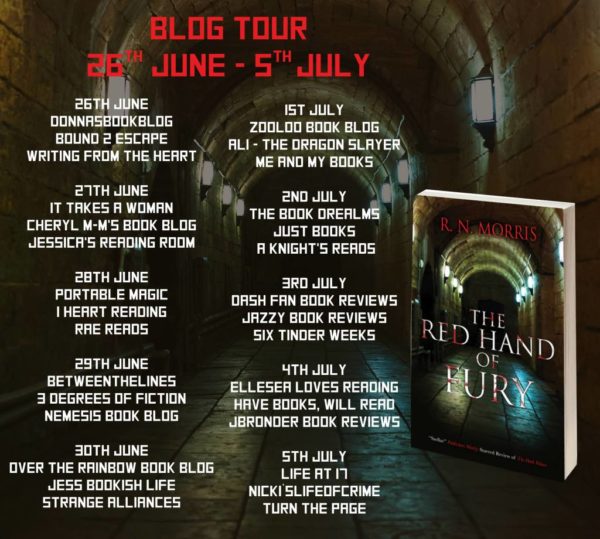 Previously on the Red Hand of Fury Blog Tour…
Reviews.
Extracts.
Interviews.
Guest posts.
Promotion.